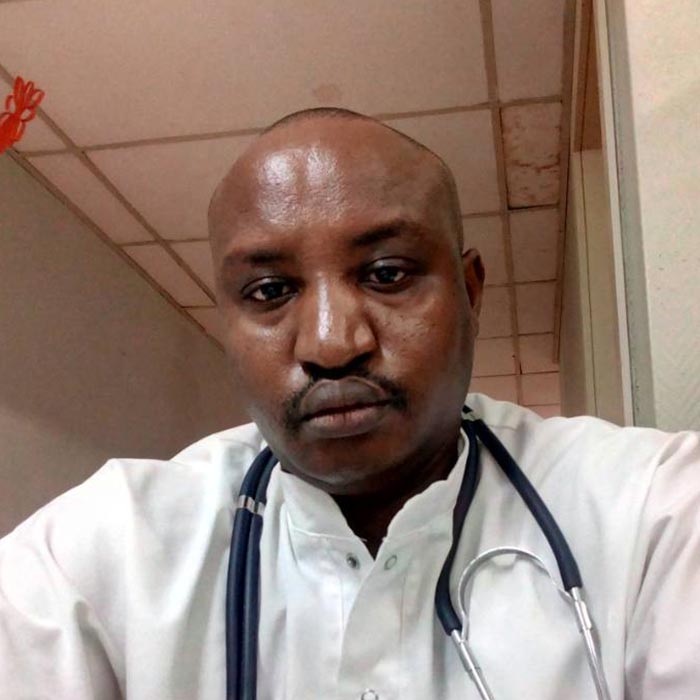 Dr Felix HARERIMANA
Confounder et 1st president of IPROSARUDE
One of the founding members of Iprosarude and first Legal Representative of the organization.
With his colleagues Doctors and non-Doctors decided since 2010 to leave the city to join the rural population given the challenges and to promote its integrated development.
Since 10 years of experience especially in maternal and child health has worked in kayogoro both as a Clinical Doctor and Public Health.
Currently in Pediatric training, available to the organization as Technical Advisor and General Referral Physician in Pediatrics and Pediatric Nephrology.
Dr Joseph BIGIRIMANA
Cofounder and president
Dr Joseph Bigirimana is a Burundian doctor. He is one of the founder members of IPROSARUDE. He first graduated as a Doctor of General Medicine and practiced as a practicing physician at the Hospital of Kirudo and Socio-Sanitary Center of IZERE for one year, then he completed a two-year diploma in Inter-University Diploma in Global Care for People Living and / or Affected by HIV, which was a training organized by Paris 13 and the University of Bujumbura.
He worked at the Ministry of Public Health and AIDS Control as District Medical Officer of Busoni (Northern Burundi) for three and a half years and during this time, Joseph took care of everything, treating the sick, to ensure the operational management of the district, to carry out the operational research and the coordination of all the actors intervening in the sector of the health. Thanks to his skills and devotion, he was Medical Director of the Sanitary Province of Mwaro (Central-Eastern Region of the country) for four years.
During this period, he used several strategies to increase the indicators especially the increase of the indicators of the women who gave birth in health facilities and who breastfeed their children properly. Joseph boosted attendance at health centers and hospitals by the "Performance Based Funding" approach. He went on to specialize in public health at the Alfred Comlan School in Ouidah, Benin where he obtained a Master's degree in Public Health, a "Polyvalent" specialty.
Dr Joseph has always wanted to work for a national and international organization. This is how he served as Executive Secretary of IPROSARUDE before going on to specialize and now he is fulfilling his dreams by working for the Initiative for the Promotion of Rural Health and Development (IPROSARUDE) with the function of Legal Representative of IPROSARUDE. He always looks for opportunities that will motivate and help someone else become a better person, even if it's just a word of encouragement or advice. One of Joseph's personal aspirations is to continue to learn and grow professionally and to contribute to the sustainable growth of IPROSARUDE.
Dr Joseph loves spending time with his family, reading and doing the sport.
Mr Albert NIBASUMBA
Cofounder and treasurer
Mr Albert is Burundian. He holds a  high school diploma  at  Rutana high school  . Mr. Albert held a position of nutrition assistant at International Medical Corp in 1995 to 2005.  In 2005, Mr Albert began his business as pharmacy manager   .
Mr Albert joined IPROSARUDE in 2010 with others members of IPROSARUDE   as cofounder and has been nominated as general secretary and now is a treasurer and Rutana  provincial representative .
Dr Jean Pierre Ndayirukiye
Cofounder and Executive Director
Dr Jean Pierre is Burundian. He holds a doctoral degree in general medicine from the University of Burundi, an Inter-university diploma in comprehensive HIV/AIDS care in the Great Lakes region from the University of Burundi and University of Paris 13, and master's degree in Public Health from IST in Burkina Faso. Dr Jean Pierre has been a leader of many CSO such as federation of student's organization, member of Rotary club Rukinzo de Gitega since 2015. Dr Jean Pierre has teaching temporary at medical institute for 2 years at Medical Group Bujumbura for 2 years and for 3 years at Institute for Health and Development for 3 years. Dr Jean Pierre   began his job at Rutana hospital as a general physician since 2008 for 3 years. He held a position with ABUBEF as a medical coordinator for 3 years. Dr Jean Pierre joined IPROSARUDE in 2010 as cofounder and began an executive director of IPROSARUDE in 2014. Dr Jean Pierre participated in the development of some national documents, did consultancy work, and participated in steering committee, research, distribution of good practices and abstracts and is a  participates in research unit . Dr Jean Pierre loves fashion, reading, playing basketball, spending time with family & friends and travelling.